I did this challenge
last year
, and I did pretty well. This is a challenge that works for me because I do read quite a bit from these services. Thus I am going to try again for this year.
So, here goes: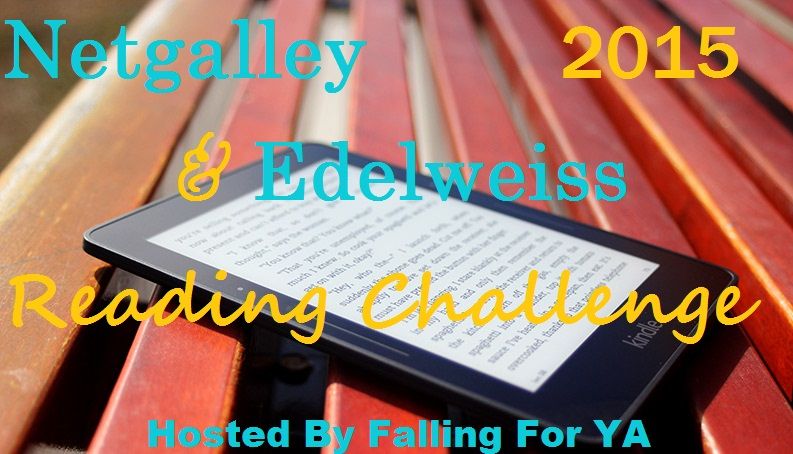 Some of the basics:
The challenge will run from Jan 1, 2015 – Dec 31, 2015.
Any genre, release date, request date, length, etc. counts so long as it came from Edelweiss or Netgalley.
At the beginning of each month there will be a roundup post for you to add your reviews. (This is where I tend to struggle a bit in doing these reading challenges. Reading the stuff is the easy part. Getting reviews up on the blog to then link up, not so easy. So I hope my reviewing on the blog becomes a bit more timely this year.)
If you forget to link up one month it's not a problem just add your reviews next month. (At least they do give me this flexibility.
Click on the link to see the full post and rules, plus to sign up if you want to try it out as well. If your e-reader is a bit full of electronic ARCs and review copies from these services, this may be the challenge for you as well.
I am declaring that I am going with the Silver Level which equals 25 books.
I am playing it safe again this year. Last year I committed to Silver Level. I did surpass it, but I did not quite make it to the next level. I did read more, but I only managed to get so many reviews posted (the challenge counts based on what you review and post). Naturally, if I read and review enough to make it the next level, I can upgrade my challenge level.
As for the list of books read, as I have done before, I will add them as I read them. I will then add the link to my review on the blog as they are published on the blog.
List of books read for this challenge:
Matt Smith and Carl Critchlow, Judge Dredd: Anderson, Psi Division.
Chris Metzen, Transformers: Primacy.
Vic Malhotra, X-Files: Year Zero.
Kennedy Xu, Daomu.
Alex Ross, et.al, The Six Million Dollar Man, Season 6.
Scott Snyder, American Vampire, Volume 7.
Ryan Burton, et.al., Dark Engine, Volume 1.
Karl E. Meyer and Shareen Blair Brysac, The China Collectors.
Paco Ignacio Taibo III, Pancho Villa Takes Zacatecas.
Carlton Mellick III, ClownFellas.
Kevin Smith, et.al., Batman '66 Meets the Green Hornet.
Erik Burnham, et.al., Teenage Mutant Ninja Turtles/Ghostbusters
Paul. S. Kemp, Star Wars: Lords of the Sith.
D.J. Kirkbride and Vassilis Gogtilas, The Bigger Bang.
Jim Zubkavich and Max Dunbar, Dungeons and Dragons: Legends of Baldur's Gate, Vol. 1.
Jimmy Palmiotti, et.al., Harley Quinn, Volume 2: Power Outage. (scheduled soon)
Shawn Kittelsen, et.al., Mortal Kombat X: Blood Ties. (scheduled soon)
Brian Lynch, Monster Motors. (scheduled soon)
Shane McCarthy, Transformers: Drift--Empire of Stone.
Rob Anderson, et.al., Creature Cops: Special Varmint Unit. (scheduled soon)
Mark Millar, Jupiter's Legacy.
Scott Snyder, Batman, Volume 6: Graveyard Shift.
Guy Lawson, Arms and the Dudes.
Becky Cloonan, et.al., Gotham Academy, Volume 1.
Si Spencer, Bodies.
Thomas Hodge, VHS Video Cover Art.
Jeff Parker, et.al., Flash Gordon Omnibus.
Tony S. Daniel, et.al., Deathstroke, Volume 1.
Francis Manapul and Brian Bucellato, Batman: Detective Comics, Volume 6.
Tim Seeley, et.al., Grayson, Volume 1.
Cameron Stewart, et.al., Batgirl, Volume 1.
Mark Millar, MPH.
Michael Uslan, Justice, Inc.
Rebecca M. Herzig, Plucked.
Robert Lazaro, Robert Heinlein's Citizen of the Galaxy.
Steve Niles and Damien Worm, October Faction, Volume 1.
Z. Rider, Insylum.
Scott Snyder, et.al., Batman Eternal, Volume 2.
Mairghread Scott, et.al., Transformers: Combiner Wars.
Have a great year and happy reading folks!
Update note (10/2/15)
: Initial challenge completed with 35 books read and reviewed as of this date (39 read total, 35 read and reviewed with the other four scheduled to publish later). As I read more, I will keep adding. I am not upgrading to the next level just yet. While I think I can get 11 more books read to make it to 50 (Gold Level), I am not sure I can get the reviews up on time by end of the year. We'll see. However, officially, the initial commitment has been completed.